The Official Website of Writer R.J. Huneke
As a journalist, R.J. began his writing career at Newsday, Apple Gazette and The Examiner and has hundreds, if not thousands, of articles to his credit. His novel CYBERWAR was released in 2015.

R.J. has pursued his love of fiction, as a neurodivergent author, creator, and artist, from his earliest days making comic books as a child up to now. He has a spotted dog and two unspotted cats.
THE FORGOTTEN FICTION
The Forgotten Fiction book review magazine was created by R.J. Huneke and features book reviews of quality written works of fiction, preview reviews of upcoming unreleased titles & author / artist interviews.
TFF has another special focus on detailed reviews of Small Press and Fine Press Limited Editions that feel heavy in the hand, though we review works of fiction from any publisher.
THE INK FROM MARS
The trip to Mars went horribly wrong.
I sit and watch the blue-violet ink floaters play Pong in my eyes. I look suspiciously at my crew-mates and wonder if they, too, have ink spreading from their pupils. I feel so anxious. A NASA quarantine would break me after all the months of isolation. Why the fuck did I have to be the first to walk on Mars?
There is an audible signal – click – that marks my being strapped in and stuck in place in front of my crew. Looking from one face to the other, it hits me: none of the pupils are moving. Only the ink pools and moves. Back and forth the bulbous amoeba-like ink swims on and on in their eyes. Jesus. Blue ink. They've all got the blue ink.
CYBERWAR
If you like a modern twist on Ian Fleming's James Bond series, Cyberwar blends spy-thriller and sci-fi in a dark gritty fashion. Read all about it and see excerpts on the CyberwarSeries.com site here.
Cyberwar is a thriller novel from author R.J. Huneke and was released worldwide on May 5, 2015. It is now available in hardcover, softcover, and eBook (Kindle, Nook, iBooks) wherever books are sold.
For Cyberwar, R.J.'s knowledge on cyber warfare, biohacking, and political protest, as well as his strong female protagonists are what set the riveting story apart.
Huneke has interviewed cyber security professionals, carefully examined advances in science and technology, including robotics and AI, artificial intelligence, and compiled modern day speculations and spun them into an electrifying journey into a dystopian society dominated by cybernetic hackers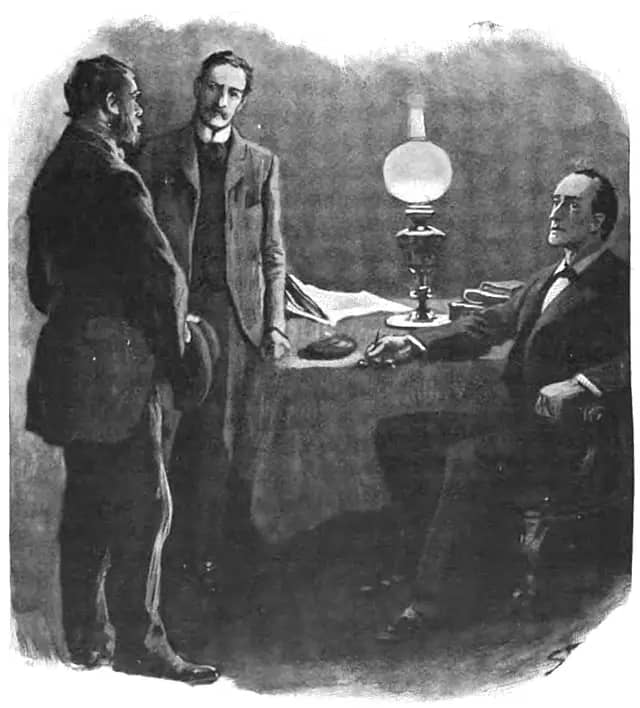 It all went to hell when the world's greatest cyber warriors chose to wage war for themselves and not on behalf of the politicians that hired them. Hackers, they used to be called. Somehow the term for "one who hacks a computer" was deemed offensive during the Occupancy War and subsequently placed on the Banned Vocabulary List.
Check out my Goodreads Profile: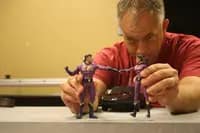 This one is a top-drawer action flick in book form
This one is a top-drawer action flick in book form. The good guys are cyber-warriors who fight the Cyber Elite, hackers who have taken over the government.
The drama here is gripping. It's close enough to reality to sink in emotionally. Nuclear devastation and a pandemic are plot points. Bad guys have plans that really could work, and good guys struggle to keep it together.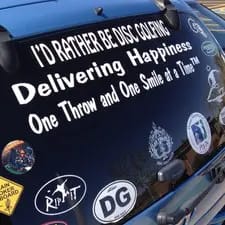 I would recommend to anyone that enjoys Thrillers
Cyberwar was a good thriller with great characters and one that I would recommend to anyone that enjoys Thrillers. I won this great book on GoodReads.com.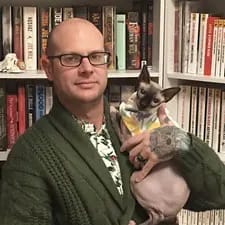 Cyberwar is a great read while paying homage to Neuromancer. R.J. Huneke has created enjoyable characters in a not to distant grim setting. Sci-fi at its heart with a healthy helping of hard-boiled grit. I found the story gripping and compelling to the end. Definitely worth adding to your reading list.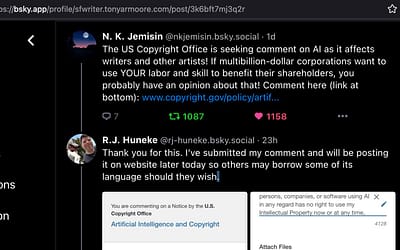 AI: US Copyright Office seeks our comments Writers-Artists - how does AI affect you? We the people, the human writers and artists of the world are the creative content that AI, artificial intelligence, software wants to use to learn, grow, and evolve closer and closer...
read more